Basketball (Girls)
Team News

2022-2023 Team News
March 2, 2022: GIRLS BASKETBALL 2022 FCIAC CHAMPS!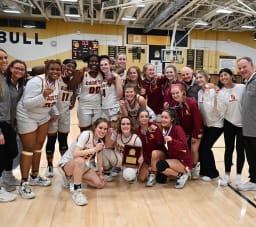 The SJ Cadets Girls Basketball program defeated #7 Stamford 48-36 in the FCIAC Championship game last week! The Cadets, who was ranked #1 going into the tournament, defeated Trumbull and Ridgefield to get to the big game. Senior captain Kiersten Rodriguez scored a game high of 13 points and earned the game's MVP Award.
January 27,2022:
CT Insider Article: St. Joseph's experience has them atop the FCIAC standings at the halfway point
2020-2021 Team News
March 10, 2021: Huge win for the Cadets last night over previously undefeated Staples! Led behind a 13 point effort from Kayleigh Carson, the Cadets broke Staples 9-game win streak with a 43-35 win. Click here to read more about it!
February 10, 2021: Girls Basketball opened last night with a strong win against Norwalk 53-28 in their season opener! The Cadets have worked hard in the off season, while maintaining the safest environment to do so. Click here to read about the team's work during the preseason!
2019-2020 Team News

March 4, 2020: The #14 Cadets advanced to the second round of the Class MM CIAC Tournament! They defeated #19 Weston in the first round 55-32 to move on. They will play at #3 Sheehan in the second round.
January 31, 2020: The Cadets held McMahon to single digit scoring in three periods in their 54-27 win over the Senators!


December 18, 2019: The first weekend of basketball season meant the a
nnual overnight jamboree for the Cadets! The team went 7-2 on Saturday in their games and undefeated in their Sunday games! The girls open the regular season on Tuesday 12/17 at New Fairfield at 7pm!
November 11, 2019: Members of the SJ Girls Basketball program took some time out this weekend to help pack bins with Al's Angels, which is a program that provides support to children and families battling cancer, rare blood diseases, natural disasters and severe financial hardship. For more information about Al's Angels or to see how you can help click here!
2018-2019 Team News
March 19, 2019:
Freshmen Cadets Kate Rudini and Dennaye Hinds were selected to play in the FCIAC Freshmen All-Star Game last week in Norwalk! Senior Captain Emma Elrod was selected to play in the CIAC Senior All-Star game as well, which was held at Mercy HS last night!
February 14, 2019: SJ Girls basketball celebrated their final home
game of the season with a Senior Night ceremony before tipping off again New Canaan! The team honored their four senior players and one senior manager in front of teammates, family and friends. The girls went on to defeat New Canaan 39-33 to end the regular season 10-10. They will play again in the first round of the CIAC Class L Tournament on February 25th, more details to follow!
2015: This picture says it all -- SJ Girls Basketball - State Champions!
Head Coach: Chris Lindwall
Assistant Coaches: Mark Hopkins, Amaia Gritsko, Scott Corchards
2022-23 Roster
Liliana Benanti
Lauren Brown (C)
Alexandra Davidson
Erin Donegan
Isabella Gracia
Erin Lovett
Grace Montelli
Abigail Savoie (C)
Margaret Wetmore

2020 Girls Basketball Video Created by SJ Cadet, Eli Anz '20